Munga - AVAILABLE FEBRUARY 2023
44LB
Munga is an ultra-low NSC diet for horses in light to medium work who cannot tolerate grain or high starch diets.
Used as a top dress to achieve ultimate muscle mass 

Less than 13% non-structural carbohydrates 

Cereal grain free - low starch and sugar

Chelated mineral blend

Quality amino acid sourced from Australian Sweet Lupins

High fat resulting in cool conditioning 

Bonafide®, featuring Quinaquanone®, a Bioavailable form of Vitamin K1 & K2 for support of bone density.
Sweet Lupin Flakes. Bean Flakes, Whole Sunflower Seeds, Canola Meal, Soybean Meal, Suncured Alfalfa Meal, Wheat Middlings, Rice Bran Oil, Sugarcane Molasses, Calcium Carbonate, Dicalcium Phosphate, Magnesium Oxide, Potassium Chloride, Salt, Copper Sulfate, Copper Proteinate, Ferrous Sulfate, Iron Proteinate, Zinc Sulfate, Zinc Proteinate, Manganese Sulfate, Manganese Proteinate, Cobalt Sulfate, Cobalt Proteinate, Selenium Yeast, Sodium Selenite, Potassium Iodide, Vitamin E Supplement, Vitamin A Supplement, Vitamin D3 Supplement, Biotin, Menadione Nicotinamide Bisutfite, Folic Acid, Choline Chloride, Niacin Supplement, Riboflavin Supplement, Thiamine Mononitrate, Di-Calcium Pantothenate, Pyridoxine Hydrochloride, Vitamin B12 Supplement, Vitamin C & Quinaquanone" a bio-available form of Vitamin K1 and K2.
| | |
| --- | --- |
| Crude Protein min | 25% |
| Lysine | 1.4% |
| Crude Fat | 11% |
| Max Crude Fiber | 15% |
| Acid Detergent Fiber | 20.0% |
| Neutral Detergent Fiber | 25.0% |
| Dietary Starch | 6% |
| Sugars | 6% |
| Non Structural Carbohydrates | 13% |
| Calcium | 1.3% |
| Phosphorous | 0.6% |
| Sodium | 1.2% |
| Magnesium | 0.5% |
| Potassium (min) | 1.4% |
| Chloride | 1.8% |
| Manganese | 170 ppm |
| Zinc | 230 ppm |
| Copper | 97 ppm |
| Iron | 190 ppm |
| Iodine | 1.8 ppm |
| Selenium | 0.7 ppm |
| Vitamin A | 8,100 IU/lb |
| Vitamin D | 857 IU/lb |
| Vitamin E | 306 IU/lb |
| Vitamin C | 680 mb/lb |
| Vitamin K | 1.75 mg/lb |
| Quinaquanone K1&K2 | 1.75 mg/lb |
| Vitamin B1 | 9 mg/lb |
| Vitamin B2 | 4.8 mg/lb |
| Niacin | 25.6 mg/lb |
| Pantothenic Acid | 10.9 mg/lb |
| Vitamin B6 | 3.4 mg/lb |
| Vitamin B12 | 22.7 ug/lb |
| Folic Acid | 4.7 mg/lb |
| Biotin | 0.5 mg/lb |
Feeding Guide (rate per day)*
Click HERE to download the Munga sell sheet.
Muscle Fuel
Amino Acids, the building blocks of protein for muscle development and to maximize growth.
Min & Vit Power
Chelated Minerals are highly available and support healthy bones.
Muscle Repair
Natural Vitamin E for antioxidant, circulatory and cardiovascular functions
Building Topline
Pure Rice Bran Oil to maximise absorption and feed efficiency for muscle building.
Cereal Grain Free
No fizz, no fuss formula safe for horses prone to grain intolerance.
Healthy Muscle Metabolism
Bio-available Selenium to assist your horses muscle metabolism
Bone Density Support
Bone density support from 
Bonafide®
What's inside
MUNGA
BONAFIDE®
BONAFIDE® bolsters the vitamin K1 and K2 status of horses on restricted grazing, supporting bone density and strength. Vitamin K1 and K2 effect the function of osteocalcin, the bone protein that binds the mineral and protein in the bone together. Without sufficient access to Vitamin K1 and K2 low density or defective bone and cartilage may be produced
Natural Vitamin E
This unique and highly stable form of Natural Vitamin E known as RRR-a-tocopherol is up to 5 times more bio available and potent than regular synthetic sources of Vitamin E. Research has shown that this form of Natural Vitamin E provides higher retention levels in plasma further aiding antioxidant, immune, cardiovascular, circulatory, neuromuscular and reproductive functions.
HYGAIN RBO
RBO Equine Performance Oil is a blend of rice bran oil, omega 3, 6 & 9 essential fatty acids and natural anti-oxidants known to improve the health and structural integrity of cell membranes. RBO oil plays an important role in maximising energy efficiency due to its energy dense nature and is digested efficiently in the small intestine reducing the 'sugar high' associated with high grain diets. RBO promotes growth and development of the muscular system, top line and a healthy skin and coat.
Biotin
Biotin, a water soluble vitamin is required by the enzymes responsible for protein synthesis and as a result is an essential vitamin for the healthy growth of hair and hooves. Research has shown that biotin improves skin and coat condition, increases hoof integrity and is widely recommended by farriers and veterinarians.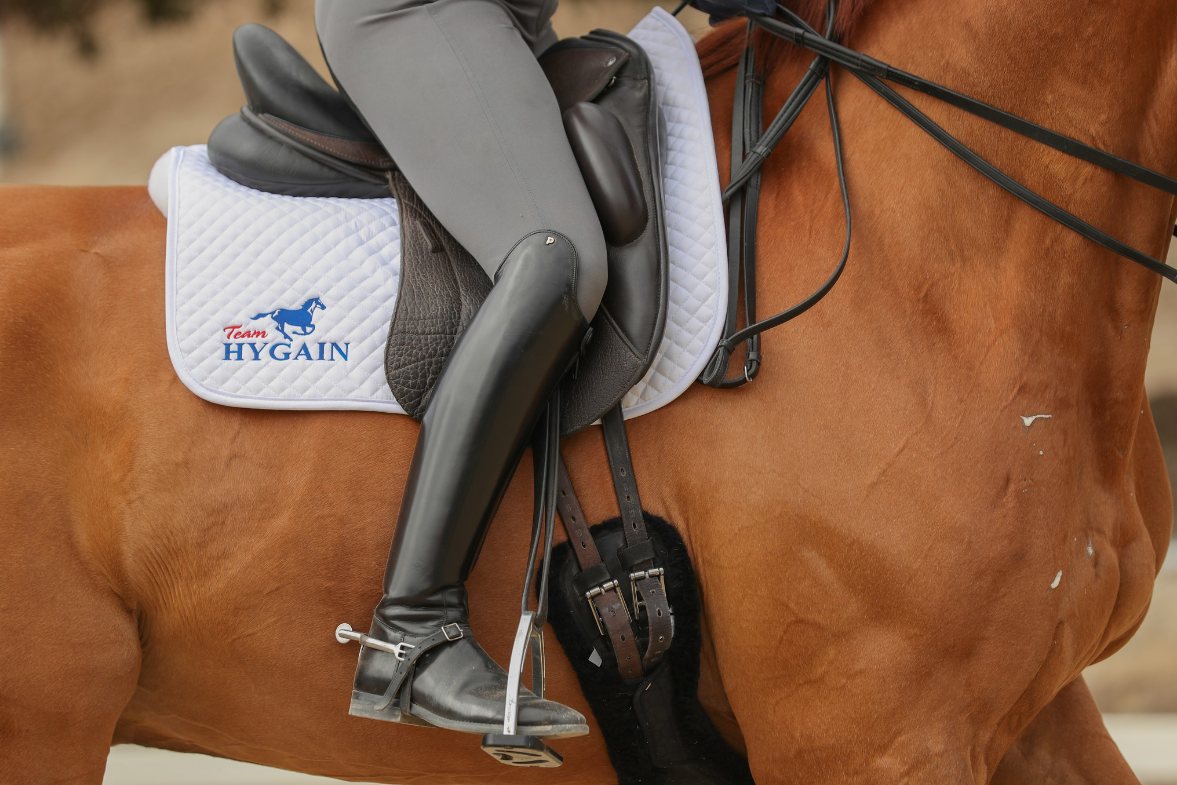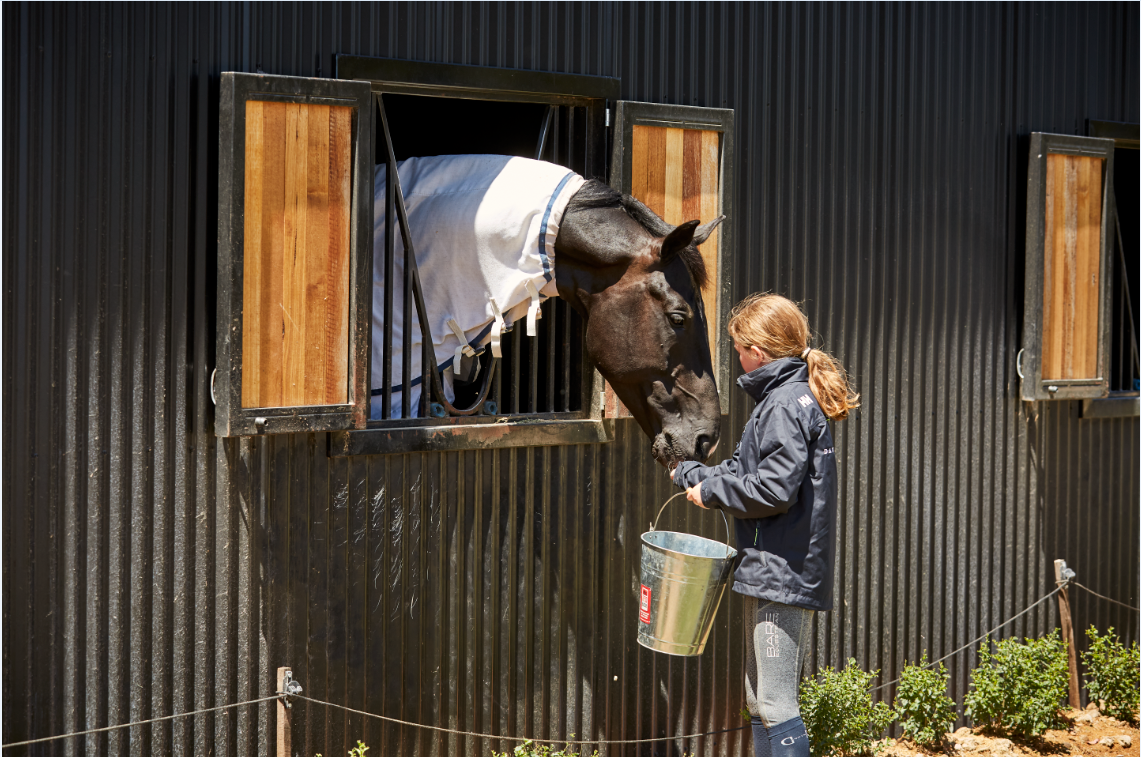 Guide
FEEDING TIPS
MUNGATM is a fully fortified feed or top dressing designed to encourage muscle development. With a low feeding rate, MUNGATM is the ideal Ultra-Low Starch™ choice for boosting muscle and nutrient intake.
HYGAIN MUNGA should be introduced to your horse's diet gradually. Feeding amount may be influenced by age, breed, appetite, exercise, desired body condition, pasture/hay quality and availability and climate.
HYGAIN MUNGA should be fed in conjunction with quality pasture and/or hay.
HYGAIN MUNGA is a nutritious palatable feed concentrate. Care should be taken to match feed intake to body condition and workload.
Introduce HYGAIN MUNGA to your horse's diet gradually over a 7-14 day period.
Feed by weight and not by volume.
Feed a minimum of 1.5% of your horse's body weight daily as roughage.
Horses have a small stomach, so feed little and often.
Ensure horses have access to clean water.
For dietary recommendations and nutritional solutions contact HYGAIN.
News | 22.11.21
Hygain acquires Arenus Animal Health
MEDIA RELEASE 19 November 2021 Hygain acquires Arenus Animal Health Hygain,...