Senior
Hygain® Senior® is a micronized, oat-free textured feed formulated to meet the nutrient needs of mature and senior horses. Senior® complements a quality forage program and provides high-quality digestible energy, soluble fiber, protein, and balanced levels of vitamins and minerals for health and vitality.
Glucosamine for joint health and longevity

Micronized for maximum digestibility

Chelated minerals for maximum absorption

Natural vitamin E for antioxidant, circulatory, and cardiovascular functions

Hygain® RBO® rice bran oil for shine and omega-3, omega-6 and omega-9 fatty acids

Essential amino acids to promote muscle development and recovery

Prebiotics and probiotics to support a healthy gut microbiome and immune system
Heat Processed Barley, Sweet Lupin Flakes, Flaked Corn, Alalfa Hay Sun-Cured Chopped, Cane Molasses, Rice Bran Oil, sweet Lupin Hulls, Calcium Carbonate, Dicalcium Phosphate, Salt, Magnesium Oxide, L-Lysine, Yeast Culture and Extracts based on the Saccharomyces cerevisiae 1026 strain, Glucosamine Hydrochloride, Copper Sulfate, Copper Proteinate, Ferrous Sulfate, Iron Proteinate, Zinc Sulfate, Zinc Proteinate, Manganese Sulfate, Manganese Proteinate,Potassium Iodine, Vitamin E Supplement, Vitamin A Supplement, Vitamin D-3 Supplement,Ascorbic Acid, DL- Methionine, Biotin, Cobalt Sulfate, Menadione Nicotinamide Bisufite, Foilc Acid,Selenium Yeast, Sodium Selenite, Choline Choride, Niacin Suppplement, Riboflavin Supplement, Thiamine Monoitrate, D-Calcium Pantothenate, Pyridoxine Hydrochloride, Vitamin B12 Supplement.
| | |
| --- | --- |
| Crude Protein | 15% |
| Lysine | 1% |
| Crude Fat | 7% |
| Max Crude Fiber | 14% |
| Calcium | 0.90% |
| Phosphorus | 0.50% |
| Copper | 52 ppm |
| Sodium (min) | 0.50% |
| Sodium (max) | 0.60% |
| Selenium | 0.30% |
| Zinc | 156 ppm |
| Vitamin A | 4,950 IU |
| Vitamin E (min) | 225 IU |
| Vitamin E (max) | 250 IU |
| Vitamin C (min) | 90 ppm |
| Vitamin C (max) | 100 ppm |
| Glucosamine (min) | 600 ppm |
| Glucosamine (max) | 800 ppm |
Feeding Rates per Day*
Horses in light work
600 lbs 2-3 lbs
800 lbs 3-4.5 lbs
1,000 lbs 4.5-5.5 lbs
1,200 lbs 5.5-6.5 lbs
Horses in Medium Work
600 lbs 3-4.5lbs
800 lbs 4.5- 7 lbs
1,000 lbs 7- 8.5 lbs
1,200 lbs 8.5-11 lbs
Horses in Intense work
600 lbs 5.5-7lbs
800 lbs 7-8.5 lbs
1,000 lbs 8.5- 11 lbs
1,200 lbs 11-13lbs
*Intended as guide only, all variables should be taken into consideration.
Super Digestion
Prebiotics aids in fiber, phosphorus and calcium digestion.
Muscle Repair
Natural Vitamin E for antioxidant, circulatory and cardiovascular functions
Healthy Muscle Metabolism
Bio-available Selenium to assist your horses muscle metabolism
Immune and Gut Defence
Probiotics to support a healthy gut and immune system
Hoof Booster
Biotin for rapid hoof development.
Building Topline
Pure Rice Bran Oil to maximise absorption and feed efficiency for muscle building.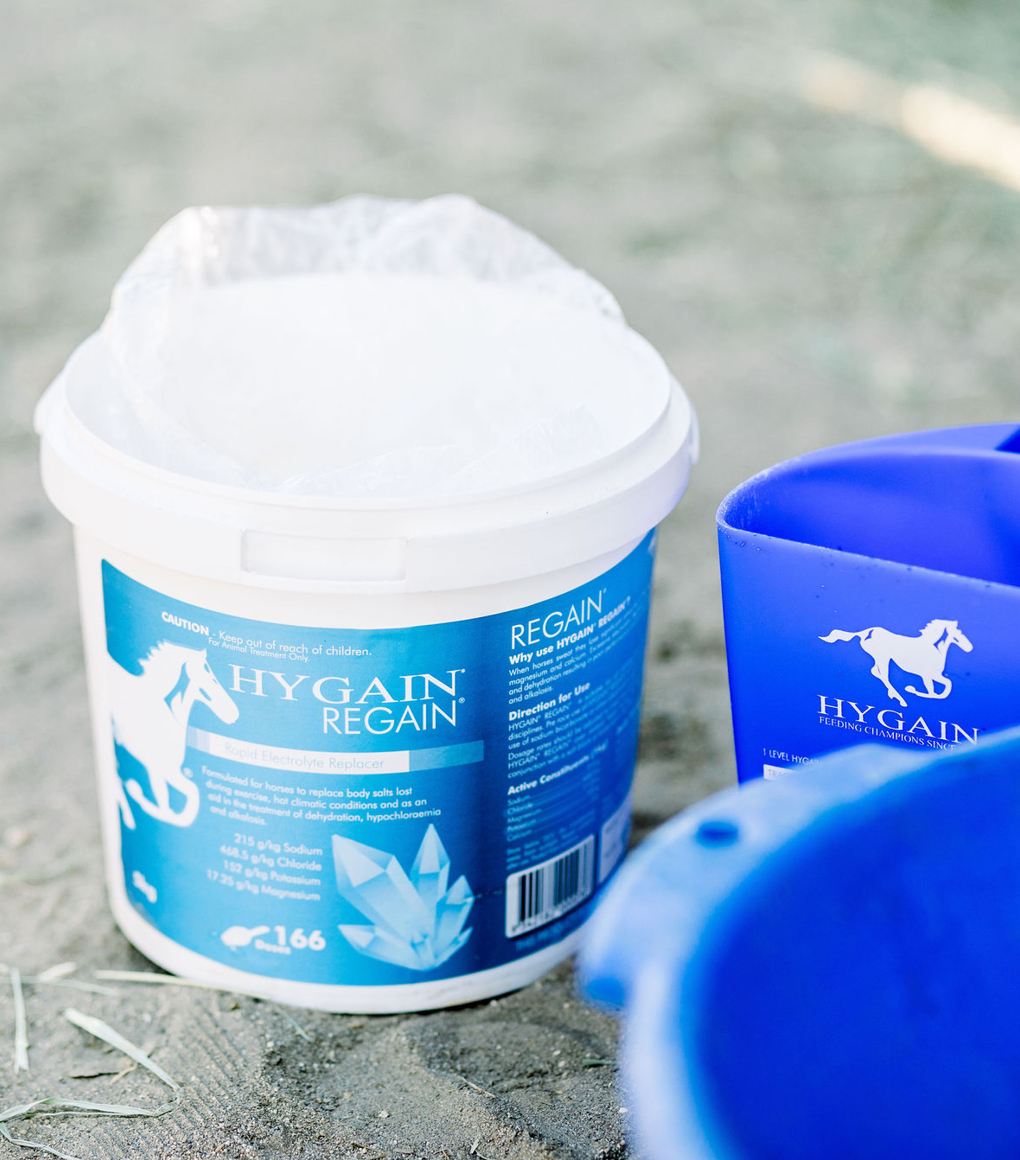 Guide
FEEDING TIPS
HYGAIN EQUINE SENIOR has been formulated for the mature horse/pony (6 yo +) and those in their senior years.
HYGAIN EQUINE SENIOR contains carefully blended ingredients that cater for the increased nutritional demands of the older horse when in work, at rest or enjoying retirement. Research has shown older horses require higher levels of nutrients to maintain condition and general well-being as efficiency of the digestive tract decreases with age.
Horses on average will 1% of their body weight as quality roughage per day. Care should be taken to match feed intake to age, breed, appetite, exercise, desired body condition, pasture/hay quality and availability and climate.
Reduce the intake of HYGAIN EQUINE SENIOR if horses gain weight and/or exercise regime is interrupted, on rest days and when pasture quality and availability is in excess of dietary requirements. If your horse/pony endures heavy sweat loss additional supplementation with an electrolyte such as HYGAIN REGAIN is recommended.
HYGAIN EQUINE SENIOR is a balanced feed and as such the addition of other grains and supplements only serves to dilute the nutritional integrity of the feed.
Introduce HYGAIN EQUINE SENIOR to your horse's diet gradually over a 7-14 day period.
Feed by weight and not by volume.
Feed a minimum of 1% of your horse's body weight daily as roughage.
Horses have a small stomach, so feed little and often.
Ensure horses have access to clean water.
For dietary recommendations and nutritional solutions contact HYGAIN.
library | 18.10.20
Feeding the senior horse
Defining the "nutritionally senior" horse. The nutritional management of the senior...